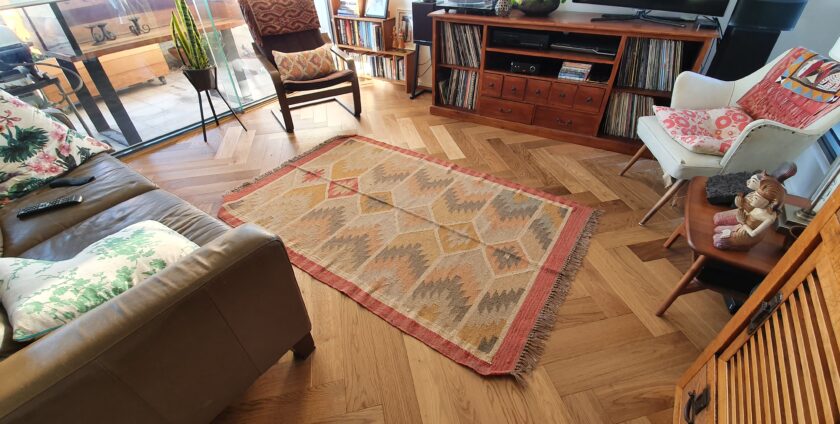 There's an almost unlimited number of ways you can install your hardwood flooring. Here are some of the most popular we recommend:
Random
Diagonal
Chevron
Herringbone
Parquet
Random Plank
This is the most common hardwood floor pattern. It has its roots (pun intended) in the flooring pattern used by those early colonists and their hand sawed planks.
In this example, the flooring was randomly placed in a linear design on the floor. The lengths of the planks vary to randomize the joints. This is achieved by cutting the starter piece in each row to a random length.  Notice that the seems are always at least 8″ apart – this is good installation form. You can also randomize the board width or use a combination of both board width and length to mix things up.
Chevron Pattern
The Romans were the first to discover that a walking surface lasted longer if they placed the bricks in line with the traffic. It only makes sense that the first chevron pattern wood floors would show up in the homes of wealthy Europeans.
Notice how the board ends are miter cut at an angle? This angle creates a vee line and creates visual interest. It's what adds to that elegant, luxurious European, contemporary look. But it also adds to product and installation costs. But it is a sweet look and very dramatic.
Herringbone Pattern
The herringbone pattern is the kissing cousin to the chevron. Both are used with tile floors as well as wood floors. Be on your toes with this one. Even pros sometimes get confused with the difference between the chevron and herringbone patterns.
This little guy is carefully inspecting the herringbone pattern of the bamboo floor. Look closely where the board ends meet. The board ends aren't mitered, they overlap.
That's the difference between chevron and herringbone wood floor patterns. Now you know. It's all in the miter cut and how that vee line is created.
You still get that open and luxurious feel of the chevron pattern without the increased cost of mitering each board. It's all the drama but with a more traditional aesthetic.